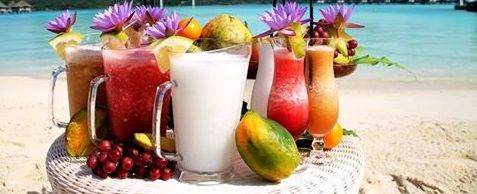 It is with coconut and exotic cocktail that the Pool Bar welcomes you every day in a summertime and tropical atmosphere.
A relaxing environment where you can sip on a delicious fruit juice, a pareo tied around your waist, your elbow propped against the bar or directly leaning on your deckchair, thanks to the beach facilities.
Light and fresh, lunch options, in appetizer format and inspired from the snacking inclination are also available.
Just a few steps away from the lagoon, you can find the pool and the beach; the Pool Bar definitely feels like a fresh island and for some guests, a meeting point between friends.
Discover our menu
Opening hours: 10:00am - 06:00pm